By Victoria Magar
President Uhuru Kenyatta has appointed a seven-member selection panel to interview candidates for the four vacant positions in the Independent, Electoral, and Boundaries Commission (IEBC), this comes days after the rumors of plots of sending the IEBC chairperson Wafula Chebukati home has been announced.
President Uhuru Kenyatta has kickstarted the process to replace four IEBC commissioners who resigned.
image of president Uhuru Kenyatta
In a gazette notice dated Monday, April 26, the head of state nominated the following members: Elizabeth Muli, Gideon Solonka, Awori James Achoka, Elizabeth Meyo, Dorothy Jemator Kimengech, Joseph Ngumbi Mutie, Faradim Suleiman Abdalla.
Members of the panel were appointed in accordance with the IEBC Act, 2020. The selection team is within one week expected to invite applications from qualified persons to be interviewed to fill the vacant slots.
The names of interested candidates would then be published on the Public Service Commission website and two newspapers with nationwide circulation. The panel would thereafter consider the applications and shortlist candidates based on their qualifications and experience needed for the job.
Uhuru in a gazette notice dated April 16, declared four positions in the IEBC vacant.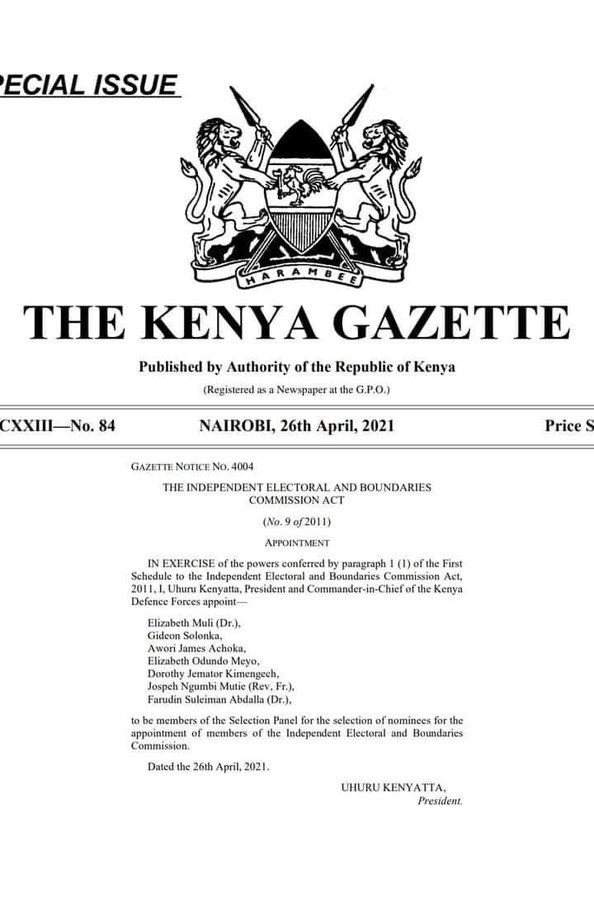 "I declare vacancies in the positions of four members of the IEBC," he announced in accordance with Section 7A (2) IEBC Act 2011.
The vacancies came about following the resignation of commissioners Paul Kurgat, Margaret Mwachanya, and Connie Maina on April 16, 2018. The trio resigned from IEBC citing a lack of confidence in the leadership of its chairperson, Wafula Chebukati.
image of the IEBC officials who quitted
"For far too long and way too many times, the commission chair has failed to be the steady and stable hand that steers the ship in difficult times and gives direction when needed."
"Instead under Chebukati's leadership, the commission boardroom has become a venue for peddling misinformation, grounds for brewing mistrust and a space for scrambling and chasing individual glory and credit," they said in a joint statement.
Another commissioner, Roselyne Akombe, had also left the Commission days ahead of the repeat of the 2017 presidential election.